Sunshine
Regular price

$128.32
Sale price
Pickup currently unavailable
Techy
We use Shetland style wool which is a blend of approiximately 50% Lambswool for softness and 50% thicker micron pure wool to give the unmistakeable character of Shetland wool. 2 ply yarn knitted off 5gg seamless Shima Seiki machinery. Wet finished in house using biodegradable soap and electricity provided by 100% renewable sources.
Delivery & Returns
Returns within 14 days accepted as long as the garment is unworn and still has it's tag attached. Tracked UK postage is £5.95 and free for orders over £150. Orders usually despatched next working day.
Care Instructions
HAND WASH
Recommended – 35 degrees using a good hand wash soap – rinse once and don't wring when taking the excess water out of the washed jumper. Dry flat on a towel or drip dry over a laundry horse in the bath. Don't be tempted with a tumble dryer – instant shrinkage troubles! 
DRY CLEAN
Also recommended.
MACHINE WASH
Most modern domestic washing machines have a 35 degree hand/wool wash programme. These are good and if the correct hand wash detergent is used no problem. Just remember do not go anywhere near a tumble dryer – dry flat on a towel. 
PILLING
All woollen sweaters pill, that is, little bobbles appear on the surface of the sweater as you wear it. We are sorry to say this is unavoidable. We try to help by knitting our jumpers a little tighter – it stops the surface fibres from breaking free and causing the pilling. The best thing we can say is that if you look after your sweater and wash regularly the problem will reduce and eventually stop.
Size Guide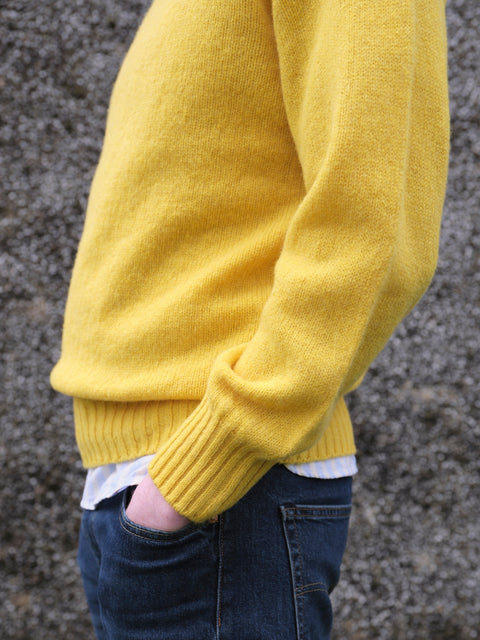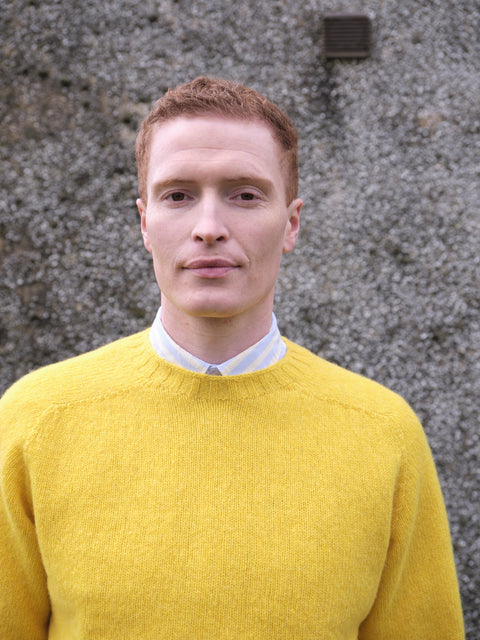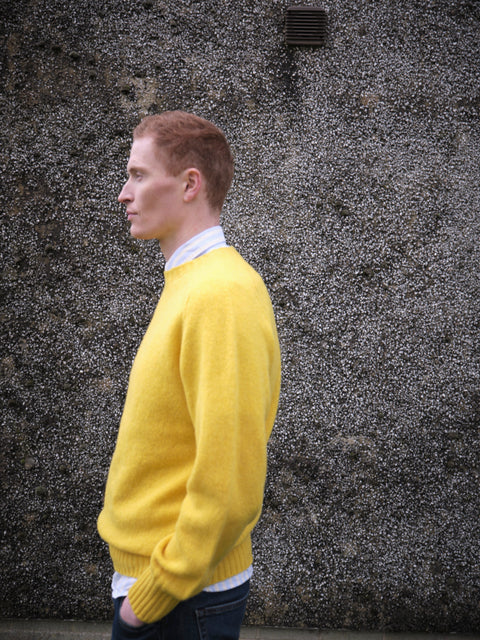 A 5 gauge 2 ply Shetland style wool sweater made in one piece using zero waste knitting technology pioneered in Japan. The combination of new technology and Scottish knitwear know-how makes for a great fitting and wonderfully soft jumper. We chose the saddle shoulder armhole shape as this fits most body types very well and works to perfection with a classic crew neck. The ribbed neck, hem and cuffs are set out in a 2x1 pattern and this adds just the right amount of ruggedness to the sweater that is truly for all seasons. Hand wash (this really is the way to make your knitwear last) or dry clean only.